Maison individuelle 5 chambres, 750 m²
Goriano Sicoli, L'Aquila (province)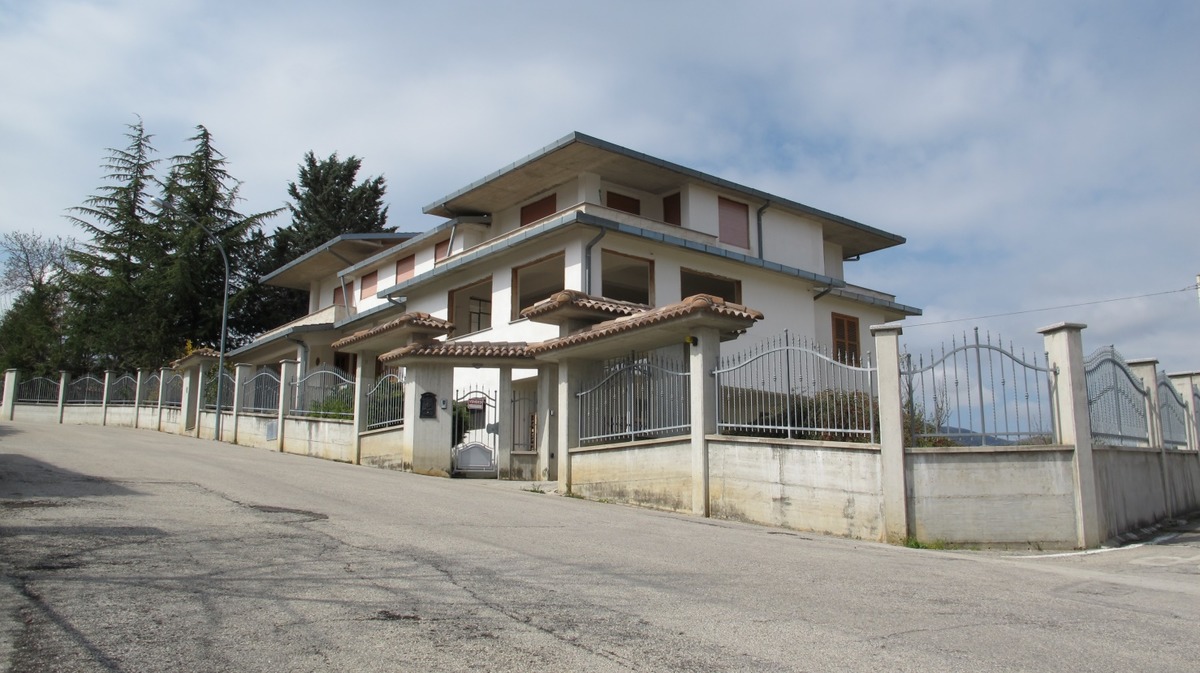 Descriptif
I want to sell my villa composed of apartments that could be sold separately. It is made of reinforced concrete, located in the heart of Abruzzo, in a place called Goriano Sicoli of ancient origins situated along the Via Claudia Valeria of the famous Romans. From here you can see the Corno Grande del Gran Sasso d'Italia, the highest peak in the Apennines. It is immersed in the greenery of the Sirente-Velino Park and is surrounded by mountains that shelter it and has a dry climate.
It is a few kilometers from Sulmona, home of the famous Latin poet Ovid and famous for its confetti (sugared almonds), produced with local almonds, fragrant and sought after all over the world.
Goriano Sicoli is not far from Avezzano of the ancient Marsi, from L'Aquila, from our capital Rome and from the maritime coast of Pescara.

The house is situated on a plot of 1500 square meters and consists of a ground floor, a first floor and an upper floor; each floor has an area of 250 Square Meters. Furthermore, each floor has independent access with adjoining gardens and entrances. The ground floor has two independent entrances with a very large front area. The first floor consists of two finished and furnished apartments with toilets, kitchens and fully equipped bedrooms and have separate entrances from each other; next to one of the apartments there is also an area of 70 Square Meters which offers a beautiful view towards the village.
On the other side of the floor there is also a large park that is adjacent to the other finished apartment.
On the upper floor, very panoramic, you can build three apartments.
The villa, therefore, is open to any purchase solution, which can also be sold separately, floor by floor and is very versatile for everything.

In Goriano Sicoli you can breathe a strong spirituality due to the fact that in 1400 here lived and died in a cell, perhaps in voluntary imprisonment, a girl named Gemma. At that time the village was part of the county of Celano and the count, Rugiero the second, noticed this young woman while she was grazing a flock, but she preferred prison, rather than go with him so it was walled up and died there.
She spent 40 years of his life there, praying and comforting the weakest ones, through a window, the only point of contact with the world. This ancient window is still there, as today it is located inside the Sanctuary dedicated to Santa Gemma, almost immediately proclaimed Saint after his death and many pilgrims and tourists come to honor his body, perfectly recomposed , richly dressed and placed in a glass urn inside the Sanctuary.
Its feast occurs on the 11th and 12th of May each year with various ancient rites, such as that of bread linked to the Greek myth of the Dee Demeter and Persephone, with which many scholars have found links and affinities with our party.
Moreover, in Goriano Sicoli, various festivals are held and the food that is cooked is like the one of ancient times where women prepare it with water from local fountains and wheat flour, as well as local corn and animal meat from local farmers.
Détails
Maison individuelle

Neuf

750 m²

5

2

200 m²

Diagnostic de performance énergétique

Villa nel cuore dell'Abruzzo con appartamenti vendibili separatamente, o B&B o Albergo diffuso
Distance de:
Les distances sont calculées en ligne droite
Les distances sont calculées à partir du centre de la ville.
L'emplacement exact de ce bien n'a pas été spécifié par l'annonceur.
980 m - Gare - Goriano Sicoli

8.4 km - Croce Verde

56.6 km

22.0 km
Informations sur Goriano Sicoli
720 m d'altitude

20.24 km²

Montagne interne

541
Carte
Ce bien est situé dans la municipalité mise en évidence.
L'annonceur a choisi de ne pas afficher l'emplacement exact de ce bien.
Google Satellite View©
Contacter le propriétaire
Particulier
Maria Donata Paolucci
Goriano Sicoli, Goriano Sicoli, L'Aquila
3333250925